Commercial Services Serving Businesses Throughout Chesapeake
Chesapeake Commercial Electricians
Serving Businesses Throughout Virginia Beach and the Surrounding Areas
Good electrical wiring is an existential matter for the smooth functioning of a business. The electrical system impacts everything from safety to cost efficiency. These are important for all property owners, but those issues take on a heightened importance in commercial settings. Business owners are legally responsible for the safety of those on their premises. Due to scale, inefficiencies can become very expensive. Our dedicated team of Chesapeake commercial electricians can give business owners the service and peace of mind they need.
Call Get Lit Electrical & Plumbing at (757) 997-7053 or reach out here online today.
Commercial Electric Repairs and Upgrades
Our team is well-equipped to diagnose and address the problems that may arise with a commercial electrical system, from ongoing repairs to the need for upgrades. We have the experience and knowledge necessary to pinpoint the source of a problem and provide a trustworthy assessment of the most effective solutions.
As businesses evolve and expand, their electrical needs often change. We work closely with management to understand their expansion plans and requirements. Based on our thorough understanding of cost-efficiency, safety, and optimal performance, we provide specifically tailored recommendations for upgrades that align with the business's goals.
Whether it's updating outdated wiring, installing energy-efficient commercial lighting, or increasing electrical capacity to support growth, Get Lit Electrical & Plumbing works diligently to ensure a seamless transition that will meet the evolving needs of the business.
Looking to upgrade your Property?
Looking for Licensed Professionals?
Tired of Doing-it Yourself?
Get Lit Electrical & Plumbing is here to help you with all these issues and so much more before they become a major issue.
Hear From Our Happy Customers
"Excellent Work"

They provided top-notch quality work. Cody was very professional and knowledgeable. I trusted his input.

- Jr S.
Commercial Electric Installation and Maintenance Service
As business owners ourselves, we know the importance of beginning with a strong foundation. That basic truth applies to the installation of an electrical system. We also know the importance of proactive maintenance in warding off problems before they arise.
We prioritize designing and implementing cost-effective solutions for commercial electric installations. Our approach is to collaborate closely with clients to understand their specific security requirements, ensuring that the electrical wiring supports elements such as CCTV systems and other security apparatuses. Our design strategies aim to provide a reliable and efficient electrical infrastructure that will serve as the strong foundation the business needs.
We offer routine maintenance services focused on identifying potential problems in their infancy. By conducting regular inspections, we can pinpoint trouble spots and ensure that the building remains compliant with all relevant codes and regulations. Our efforts are geared towards maximizing safety, minimizing downtime, and prolonging the lifespan of the electrical system.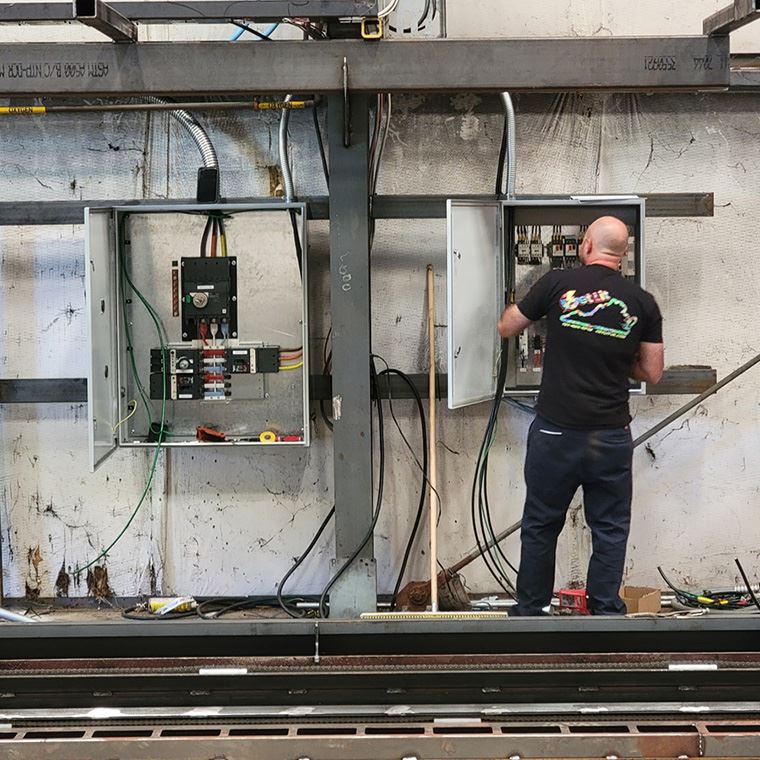 Contact Us Today
Send us a message or give us a call to see how we can help.
Service First
Our ethic at Get Lit Electrical & Plumbing is about service—first, last, and always. We believe customers deserve prompt responses when they call us for help. We believe they deserve a contractor who does their work with a professional demeanor. And above all, we believe that work should be something the customer can count on. Every day, we work with diligence and dedication to deliver exactly that kind of service to those who call on us.
Commercial Electrical Services
At Get Lit Electrical and Plumbing, we specialize in providing businesses of all sizes with reliable and cost-effective electrical installation services to keep their operations running efficiently. Here are some of the commercial electrical installation services we offer to help your business thrive:
LED Upgrades: Upgrading to LED lighting systems offers a cost-effective and energy-efficient solution for commercial properties. This advanced lighting technology reduces energy consumption and saves businesses money on utility bills. By upgrading to LED lighting, your business can enjoy lower energy costs, improve lighting quality, and ultimately increase productivity.
Commercial Car Chargers: As electric cars are becoming increasingly popular, the demand for commercial car-charging stations has risen. Our team can help your business stay ahead of the curve by installing reliable and efficient electric car chargers. Installing these chargers demonstrates your commitment to sustainability and promotes environmentally friendly practices in the community.