Electrical Panels Serving Families Throughout Chesapeake
Chesapeake Electrical Panel Service
The electrical panel is the beating heart of the entire electrical system for your home or business. When the heart of the system fails, distribution to the arteries—in this case, the rest of the property, will also fail. Get Lit Electrical & Plumbing is here to restore your panels to proper health.
Property owners from Virginia Beach and the surrounding areas can take advantage of our Chesapeake electrical panel services. Call (757) 997-7053 today or contact us online.
Signs That an Electrical Panel Needs Repair
When property owners are alert to the signs of a failing panel, we can get out there quickly, with the goal of mitigating any damage. Common signs an electrical panel needs repair work include the following:
Tripping Breakers: Circuit breakers are designed to trip and cut off the flow of electricity when they detect an overload or a short circuit. However, if breakers are tripping frequently, it could indicate a more serious underlying issue.
Strange Sounds: Unusual sounds coming from an electrical panel, such as buzzing, crackling, or popping noises, should never be ignored. These sounds can indicate loose connections, damaged wiring, or faulty components within the panel. Any of these can lead to electrical fires or other hazardous situations.
Rust and Corrosion: Moisture intrusion or excessive humidity can cause metal components of the panel to corrode. Rust and corrosion increase resistance in electrical connections, which can result in overheating. Over time, this can lead to electrical failures, power outages, and even electrical fires.
Importance of Electrical Panels
The electrical panel is the heart of a home's electrical system. It is responsible for distributing and controlling the electrical power throughout the house. As such, it plays a critical role in keeping your home safe, comfortable, and functioning correctly. At Get Lit Electrical and Plumbing, we recognize the critical importance of electrical panels and offer expert panel inspection and maintenance services to help prevent panel failure.
In Need of a Service?
Looking for
Tired of Doing-it Yourself?
Get Lit Electrical & Plumbing is here to help you with all these issues and so much more before they become a major issue.
Hear From Our Happy Customers
"Excellent Work"

They provided top-notch quality work. Cody was very professional and knowledgeable. I trusted his input.

- Jr S.
Types of Electrical Panels
There are several different types of panels that work within a property. Here are four prime examples:
Main Breaker Panel: The main breaker panel serves as the primary point of control for the entire electrical supply. This panel contains multiple circuit breakers that protect individual branch circuits, ensuring that the electrical load is distributed safely and efficiently.
Fuse Box: Fuses serve to break the circuit when there is excessive electrical flow. This helps to protect the system from overloads and short circuits. Fuse boxes are less common today but may still be found in older homes or buildings.
Main Lug Panels: These are secondary electrical panels connected to the main breaker panel. They serve as a convenient way to expand the electrical capacity of a building without the need for extensive rewiring and can be turned off without entering the building, which can be an important safety feature in the event of a fire.
Subpanels: These are similar to main lug panels in that they are additional panels connected to the main breaker panel. However, unlike main lug panels, subpanels have their own dedicated circuit breakers and can function independently. Subpanels are often installed in areas like garages or workshops to provide power for specific purposes without overloading the main breaker panel.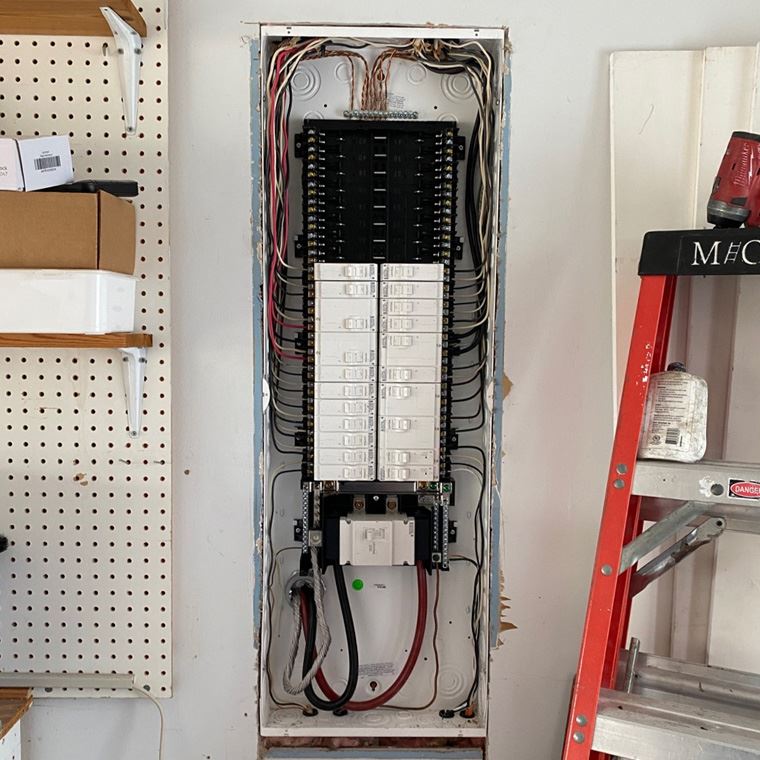 Contact Us Today
Send us a message or give us a call to see how we can help.
Electrical Panel FAQ
How Does an Electrical Panel Work?
Electrical panels, also known as circuit breaker boxes or fuse boxes, regulate and manage the flow of electrical power from the utility company to your home. They contain a network of circuit breakers or fuses that trip or blow when the electrical load exceeds the safe capacity, preventing electrical surges, fires, and other hazards.
What Causes Electrical Panels to Fail?
Electrical panels can fail due to various reasons, such as:
Age: The components wear out over time, leading to malfunctioning or failure.
Overloading: Too many appliances, devices, or lighting fixtures connected to one circuit can cause the panel to overload.
Corrosion: Corrosion and rust can harm panel components, leading to malfunctions and an unsafe and inefficient electrical system.
The Importance of Regular Electrical Panel Inspections and Maintenance:
Regular electrical panel inspections and maintenance can help prevent panel failure and ensure your electrical system remains safe and efficient. Our team of professionals can perform an array of services that identify and rectify potential issues before they become critical. We can conduct thorough inspections to detect signs of overload, corrosion, loose connections, and other problems, ensuring that your panel continues functioning correctly.
How Can Get Lit Electrical and Plumbing Help?
We have extensive experience in panel inspections and maintenance services at Get Lit Electrical and Plumbing. Our team of licensed electricians use advanced equipment and technology to identify and diagnose problems with your electrical panel, keeping it running smoothly and safely. We also provide panel replacement services if the existing panel is beyond repair or has outlived its service life.
Call Our Chesapeake Electrical Panel Technicians Today
At Get Lit Electrical and Plumbing, we understand the critical importance of electrical panels in ensuring your home's safety and the electrical system's efficiency. Let us help you keep your electrical panel running correctly and protect your home and family from electrical hazards. Contact us today to learn more about our electrical panel inspection services.
Call Get Lit Electrical & Plumbing today at (757) 997-7053 to request same-day scheduling and emergency service.