Wiring & Rewiring Serving Families Throughout Chesapeake
Chesapeake Rewiring Services
Proper electrical wiring is crucial for the safety and efficiency of a property. That makes it imperative to respond promptly when those wires are damaged. The importance of your wiring is to safely deliver the electricity that is used daily.
Whether it's installing new wiring, repairing existing wires, or simply rewiring a property, Get Lit Electrical & Plumbing does the dependable work property owners can count on.
Call our Chesapeake rewiring service technicians today at (757) 997-7053 or contact us online to get a free estimate.
Signs a Building or House Needs Rewiring
Over time, the electrical system in a building can deteriorate, leading to various issues. Here are some common signs that indicate a property may need rewiring:
Flickering Lights: This problem may occur when the electrical connections become loose or the wiring becomes outdated. Flickering lights can be an indication of overloaded circuits, damaged wiring, or inadequate power supply.
Blown Fuses: If your fuses frequently trip or blow, it could mean that the electrical system is not capable of handling the load. This can be due to older wiring or when there are too many appliances or devices plugged into the same circuit.
Circuit Breakers Tripping: Similar to blown fuses, circuit breakers tripping frequently can indicate an overloaded electrical system or faulty wiring. Circuit breakers are designed to protect against electrical faults, but if they trip frequently, it's a sign that something is wrong.
Buzzing Outlets: These disturbing sounds coming from outlets can be a sign of loose or damaged wiring. When wires are loose, they can create poor connections that generate heat and cause buzzing noises. Ignoring this issue can lead to electrical shocks and even electrical fires.
Dead Switches: If switches in your property become unresponsive or fail to turn on or off, the wiring may well be the culprit.
In Need of a Service?
Looking for
Tired of Doing-it Yourself?
Get Lit Electrical & Plumbing is here to help you with all these issues and so much more before they become a major issue.
Hear From Our Happy Customers
"Extremely Fair Price"

Corey arrived on time and did a flawless job, even teaching me as he went step by step. I will definitely be calling them in the future for any electrical needs.

- Melissa K.
Common Mistakes in Wiring and Installation
It's crucial to follow proper practices to ensure safety and functionality, as we do at Get Lit Electrical & Plumbing. Some regrettably common mistakes in our industry include:
Faulty Connections: This can include loose or improperly secured wires, poorly crimped or twisted connections, or the use of inadequate connectors. Faulty connections can lead to power fluctuations and circuit failures and pose a fire hazard.
Wire Exposure: Exposing electrical wires can be a serious safety hazard. Wires should always be properly insulated and protected within a conduit or cable sheathing. Exposed wires can lead to electrical shocks, short circuits, and potential fires.
Improper Sizing: Undersized wires can overheat and potentially cause a fire. Oversized wires can be difficult to work with and may not fit properly. Incorrect wire length can also lead to excessive coiling or stretching, which can cause tension in the connections and affect performance.
Our licensed, experienced technicians have the knowledge, experience, and tools to carry out the work safely and effectively. By adhering to proper practices and avoiding these mistakes, we'll work hard to deliver an electrical system that's long-lasting, reliable, and safe.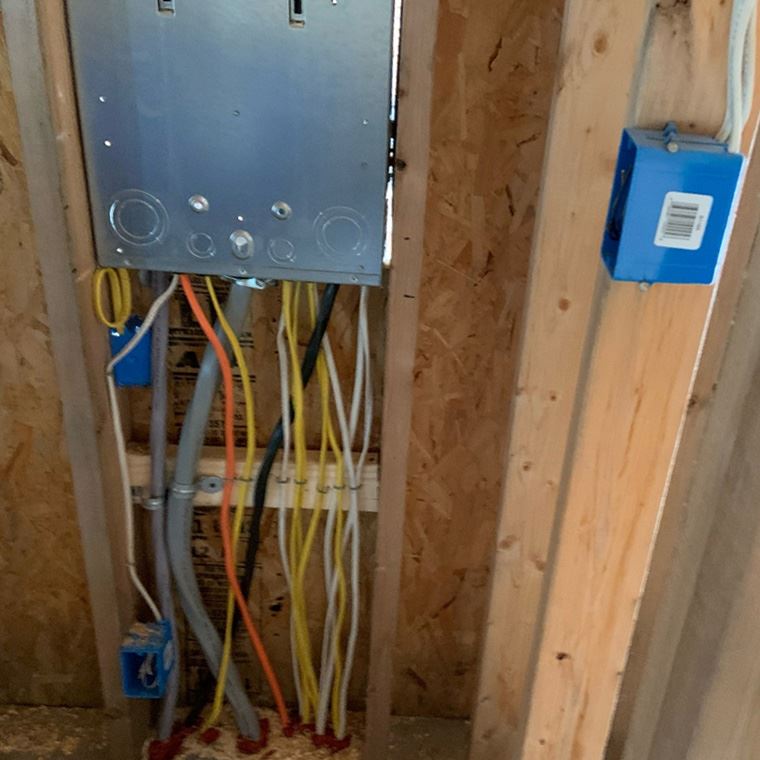 Contact Us Today
Send us a message or give us a call to see how we can help.
Let Our Chesapeake Rewiring Service Pros Help
Get Lit Electrical & Plumbing works with both residential and commercial property owners throughout Virginia Beach and the surrounding areas. We stand by our work with a lifetime workmanship warranty and offer both financing and payment plans for your convenience.
Call today at (757) 997-7053 to request same-day scheduling and emergency service.