Plumbing Installation Serving Families Throughout Chesapeake
Chesapeake Plumbing Installation
Plumbing installation is a complex process that requires the right tools and training. Whether specific fixtures, like a toilet, faucet, or sink, or an entirely new system, you want an experienced Chesapeake plumbing installation pro who can do the job right. Get Lit Electrical & Plumbing is equipped with the right tools and know-how to do the work you need.
Call our office at (757) 997-7053 or reach out here online to set up a free estimate. We serve both commercial and residential clients into Virginia Beach and the surrounding areas.
Benefits of New Plumbing Installation
Installing new plumbing:
Improves functionality. Aging pipes and fixtures can become corroded or worn out over time, leading to leaks, clogs, and reduced water pressure. By replacing old components with new ones, homeowners can enjoy a more efficient and reliable plumbing system.
Increases the resale value of a home. Buyers are often attracted to properties with updated plumbing systems, as it gives them peace of mind knowing they may not have to deal with costly plumbing repairs or replacements in the near future.
Lead to lower utility bills. Old plumbing systems may have leaks or inefficiencies that result in water wastage. Furthermore, outdated fixtures and appliances may be less energy efficient.
Between the prospect of lower utility bills in the short term and higher resale values in the long term, it's well possible that the costs of a plumbing installation could be more than recouped over time.
In Need of a Service?
Looking for
Tired of Doing-it Yourself?
Get Lit Electrical & Plumbing is here to help you with all these issues and so much more before they become a major issue.
Hear From Our Happy Customers
"Definitely Recommend"

He was prompt, professional and did a great job! He also went out of his way to educate me on how to find certified contractors in the event I needed another.

- Nichole P.
Types of Plumbing Systems
The complexity of a plumbing system can be underscored by the fact there are different types of what are effectively sub-systems, each serving a different function:
Stormwater Drainage: The stormwater drainage system is designed to collect and remove rainwater or melted snow from various surfaces, notably the roof. It helps to prevent flooding and excess water buildup. Stormwater drains, gutters, and pipes are used to channel the water away from the house.
Potable Water System: The potable water system provides clean and safe drinking water. It comprises a network of pipes, fittings, and fixtures carrying treated water. It also includes devices like water meters, filters, and pressure regulators to ensure quality and reliable distribution.
Sanitary Drainage: The sanitary drainage system is designed to remove wastewater, including sewage and greywater, from residential, commercial, or industrial buildings. It includes pipes, traps, vents, and fixtures like toilets, sinks, and showers to dispose of the wastewater and prevent odors safely and contamination.
Our technicians will work with you to assess all aspects of the plumbing at your home or business.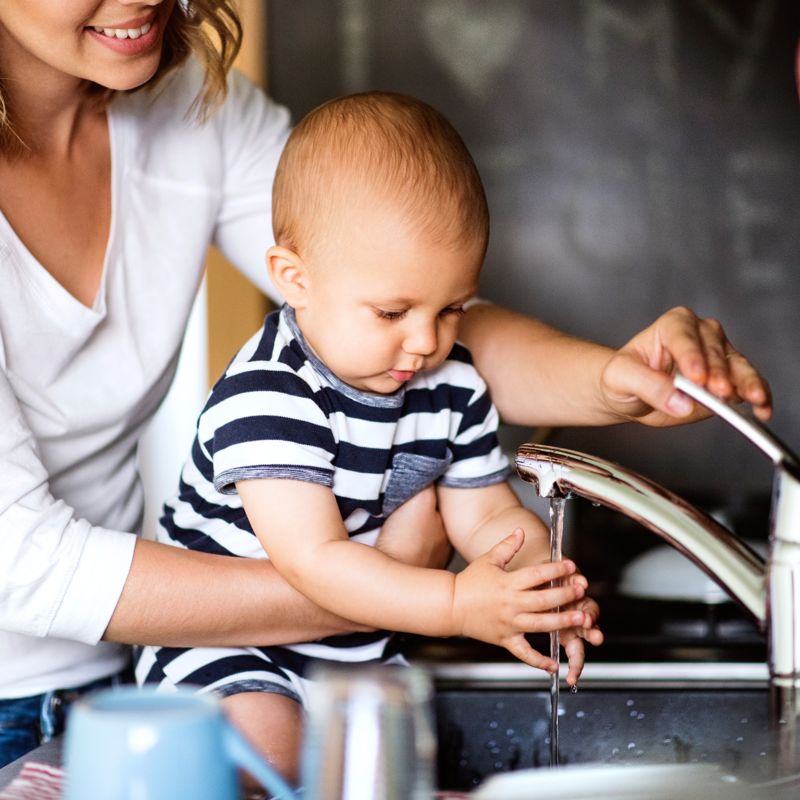 Contact Us Today
Send us a message or give us a call to see how we can help.
Plumbing Fixture Installation
Some of the plumbing fixtures we install include:
Toilets
Showers
Bathtubs
Faucets
Water heaters
Sinks
We also provide plumbing installations for appliances, including garbage disposals, dishwashers, laundry appliances, and more.
Making People's Lives Easier
Having good plumbing in your home or business can just make life a little easier. Daily tasks run efficiently, and you have peace of mind. That's what we're here to provide.
Call the Chesapeake plumbing installation team at Get Lit Electrical & Plumbing today at (757) 997-7053.