Water Heaters Serving Families Throughout Chesapeake
Chesapeake Water Heater Plumbers
Who among us doesn't rely on hot water? We want it when it's time to shower in the morning or after a workout. We need it when it's time to do the laundry. Hot water can be necessary for cooking. Being without hot water seriously inconveniences our lives. That's why our Chesapeake water heater plumbers work diligently to give property owners the quick service and diligent work they need and deserve.
Get Lit Electrical & Plumbing serves people throughout Virginia Beach and the surrounding areas. Call us at (757) 997-7053 or use the online contact portal to request a free estimate.
Why Isn't the Water Heater Working?
Here are four key factors that can contribute to a malfunctioning water heater:
Age: As water heaters age, they become more prone to wear and tear, which can lead to decreased efficiency and performance issues.
Damaged Thermostat: If the thermostat is not functioning properly, it may not accurately detect or regulate the temperature, resulting in water that does not get sufficiently heated.
High Water Needs: If your household's hot water demands exceed the capacity of the heater, you may experience a shortage. This is especially common in households with large families or multiple bathrooms.
Failed Relief Valve: The relief valve on a water heater is designed to release excess pressure and prevent the tank from exploding. If the relief valve fails or becomes stuck, it can cause the water heater to malfunction.
Regular maintenance and timely replacement can help your water heater function efficiently and provide hot water consistently.
In Need of a Service?
Looking for
Tired of Doing-it Yourself?
Get Lit Electrical & Plumbing is here to help you with all these issues and so much more before they become a major issue.
Hear From Our Happy Customers
"Extremely Fair Price"

Corey arrived on time and did a flawless job, even teaching me as he went step by step. I will definitely be calling them in the future for any electrical needs.

- Melissa K.
Common Problems With Tankless Water Heaters
Tankless water heaters provide on-demand hot water by heating the water directly without the need for a storage tank. They are known for their energy efficiency and continuous hot water supply. However, like any appliance, they can experience certain issues that may affect their performance.
Here are three common problems that can occur with tankless water heaters:
Clogged Pipes: Over time, mineral deposits or sediment can build up in the pipes, leading to reduced water flow and pressure. This can cause the tankless water heater to deliver inadequate amounts of hot water or even completely stop functioning.
Blocked Air Supply: Tankless water heaters rely on a steady supply of air for combustion. If the air intake becomes obstructed or blocked, it can disrupt the combustion process and result in the heater failing to ignite.
Corroded Heat Exchanger: The heat exchanger is a crucial component of a tankless water heater, responsible for heating the water as it passes through. Over time, corrosion can occur due to mineral buildup or exposure to harsh water conditions. A corroded heat exchanger can lead to decreased efficiency, water leaks, or even complete failure of the system.
The sooner homeowners reach out to our Chesapeake water heater technicians, the greater the chance we can catch damage in its early phase and mitigate against costlier repairs.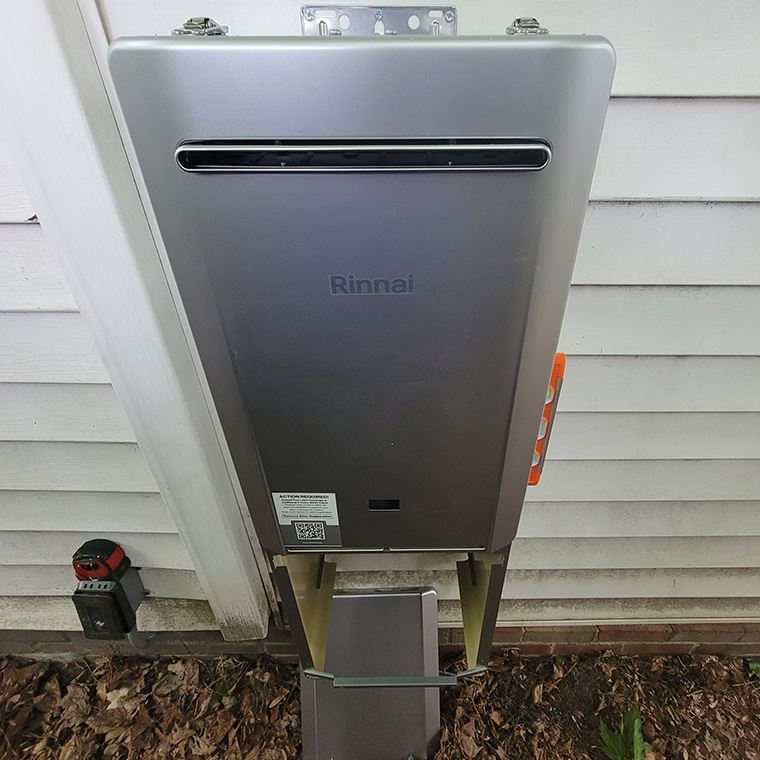 Contact Us Today
Send us a message or give us a call to see how we can help.
Red Flags a Water Heater Isn't Working
There are several signs that indicate a water heater is not working properly. Here are four common indicators:
The Lack of Hot Water: This is the most basic sign of all and a clear red flag that there is an issue with your water heater.
Higher Heating Bills: A sudden increase in heating bills without any change in usage patterns can be a tip-off that your water heater is not functioning efficiently.
Water Leaks: Any signs of water leaking around the water heater indicate a problem.
Noisy Heater: Unusual noises coming from your water heater, such as banging, popping, or rumbling sounds, can indicate mineral deposits or sediment buildup inside the tank.
Making Your Life More Comfortable
Being without hot water is a burden and a discomfort to all involved. Our Chesapeake water heater plumbers are here to restore comfort and the normalcy of your daily routine.
Call Get Lit Electrical & Plumbing today at (757) 997-7053.