Generator Services Serving Families Throughout Chesapeake
Chesapeake Generator Electricians
The reliance we have on our power source is never more evident than when it's gone. When that happens, we're at risk of everything from mass food spoilage to not being able to work or use important appliances, including those that may impact our personal health. A generator is there to provide backup and peace of mind. Get Lit Electrical & Plumbing can advise on which type of generator is best for your property and deliver the reliable installation or repair work you need.
Call our Chesapeake generator electricians today at (757) 997-7053, or just fill out our online contact form to set up a free estimate. We also serve Virginia Beach and the surrounding areas.
How to Know When to Replace Your Generator
Age: Most home generators have a lifespan of around 10-15 years, after which they may start experiencing more frequent breakdowns and malfunctions.
Maintenance: If a generator has not been well-maintained and serviced regularly, it may be more prone to malfunction.
Upgrades: If your home's power needs have increased significantly over the years, your current generator may not be able to keep up with the increased demand. In this case, upgrading to a larger or more powerful generator may be necessary.
Damage: If a generator has been damaged due to extreme weather, accidents, or other factors, it may be beyond repair and need to be replaced.
Decreased Efficiency: If your generator is not providing the same level of power as it used to, or if it is taking longer to start up or shut down, it may be a sign that the generator is beginning to fail and should be replaced.
Overall, if you have an older generator that has not been well-maintained, requires frequent repairs, or is no longer meeting your power needs, it may be time to consider replacing it with a newer, more efficient model. Always consult a licensed professional to determine the best course of action for your situation.
In Need of a Service?
Looking for
Tired of Doing-it Yourself?
Get Lit Electrical & Plumbing is here to help you with all these issues and so much more before they become a major issue.
Hear From Our Happy Customers
"Very Pleased"

Zack was very professional and personable. He arrived on time and completed the job efficiently.

- Shannon R.
Two Types of Generators: Whole House & Portable
Homeowners can choose between a whole-house generator or a portable option.
These are how they compare in the important areas of capacity, installation, and convenience:
Capacity: Whole-house generators are designed to provide power for an entire home during an outage. They have a higher capacity and can generate more electricity. On the other hand, portable generators are smaller and have a lower capacity. They are suitable for powering essential appliances or devices.
Installation: Installing a whole-house generator involves connecting the generator directly to the home's electrical system, ensuring seamless power transfer during an outage. This can be complex and may require additional permits and inspections. In contrast, portable generators are relatively easy to set up. They can be plugged into standard electrical outlets or connected using extension cords.
Convenience: Whole-house generators offer the convenience of automatic operation. They are usually connected to a fuel source, such as natural gas or propane, and equipped with an automatic transfer switch. This switch detects power outages and automatically starts the generator, providing uninterrupted power without any manual intervention. Portable generators require manual operation. They need to be fueled, started, and connected to appliances or devices individually.
The whole house generator is, all things being equal, the superior product. But it's also the more expensive product, and not every homeowner needs something of this scale. Our Chesapeake generator electricians will talk with you about your specific needs, so you can make a decision that's right for your home and budget.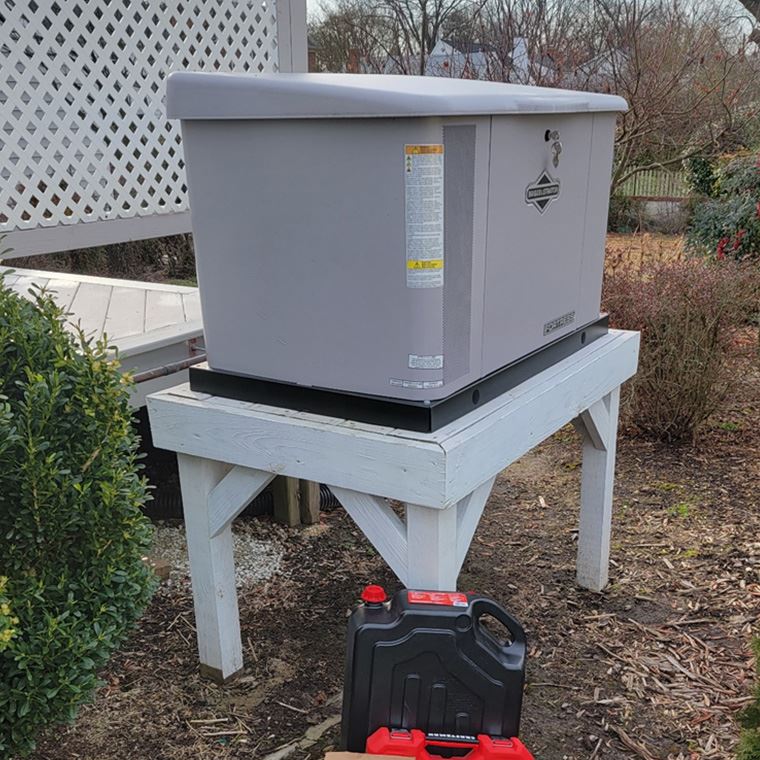 Contact Us Today
Send us a message or give us a call to see how we can help.
We're Here To Make Your Life Better
Life without power can be extremely hard, and even a short outage can have lasting consequences. We're here because we want to see people's lives get better. That's not just when an outage happens—it's also in the peace of mind they can have leading up to the outage. When a storm approaches, our customers can be confident in their backup power source.
Call Get Lit Electrical & Plumbing today at (757) 997-7053. Payment plans and financing are available.